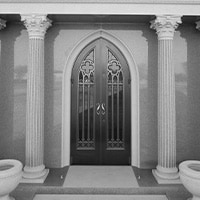 Mausoleum interiors vary as much as the mausoleums themselves. When families choose a custom private mausoleum, they create the interior they want – regardless of what's common in mausoleum interior design. Traditionally, mausoleum interiors are utilitarian, with vaults for the caskets recessed in the walls or under the floor. However, with a custom private mausoleum, families can choose a more ornate mausoleum interior, and can add lavish details like sumptuous decorations and furnishings.
Chapel-Style Mausoleum Interior
One way in which families embellish upon a traditional utilitarian mausoleum interior is by designing a chapel mausoleum. A chapel-style mausoleum design includes an altar. Families who want the mausoleum to have a religious focus select this type of mausoleum.
Read More

»