The Mausoleum Development Process
---
Forever Legacy takes great care at every stage of the mausoleum design and construction process to ensure a flawless experience and exceptional product. Learn more about the stages of a mausoleum build.
1. Consultation & Design:
Every new mausoleum first begins as an idea. The task for each member of the Forever Legacy team is to execute flawlessly in turning your idea into reality. From the first phone call through to the completion of the construction of your exquisitely designed and elegantly appointed master crafted mausoleum, co-founder and CEO of Forever Legacy, Ron Browning will work with you, side by side, in creating your eternal memorial.
During the consultation and design process, Mr. Browning will meet with you to develop your mausoleum concept, bringing in ideas that reflect your life and legacy. During the consultative process, the size and location of your mausoleum will be determined as well.
From there, our design team brings your mausoleum to life through architectural or CAD drawings. Quarrying of the stone will only begin after your mausoleum perfectly meets your exacting expectations.


2. Quarrying:
Forever Legacy mausoleums are built from the finest American granite (view our available colors). Each private mausoleum is custom built starting with cutting the right piece of granite in the quarry.
Large blocks of colored granite are quarried, and then taken to our craftsmen for cutting. Each piece is cut to exacting measurements for precise construction of your granite mausoleum.


3. Stone Carving:
The master craftsmen of Forever Legacy are the best in the business. They use power and hand tools to create custom finishes on the granite, carve names, and create large or intricate details.
Our craftsmen shape blocks of granite into majestic columns and sculpt the capitals to reflect the mausoleum style. Sculptures, friezes, and bas-reliefs are created with expert handwork. Our stoneworkers are world renowned for their craft.


4. Packing & Shipping:
Forever Legacy's builders pack the cut, polished, carved, and sculpted granite pieces with great care for transport to the mausoleum construction site to ensure they arrive in pristine condition.
The care we take in packing the glass windows, doors, and granite pieces is an example of how much attention to detail goes into every project. To avoid damage during transport, our team uses premium shipping materials that are specially designed for this task
5. Construction:
Forever Legacy's mausoleum construction team is highly experienced and skilled, specialists in granite mausoleum construction. Our builders ensure a proper foundation for the mausoleum, and construct the mausoleum to exacting specifications. Interior and exterior details are added including art glass, statuary, windows, and other effects. Bronze doors are placed.
The quality of our materials and construction techniques allow us to offer an Eternal Guarantee on our granite mausoleums. Our mausoleums stand the test of time.


6. Completion: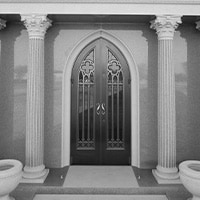 Following mausoleum construction and installation of special pieces, landscaping may be performed. A completion ceremony is scheduled on request, and the keys are passed to the owner.
Your relationship with Forever Legacy continues, however, with our Eternal Guarantee covering your granite mausoleum in perpetuity.