Unlike their occupants, mausoleum trends come and go.
Old world aesthetics continue to influence architecture for the dead. A massive number of mausoleums were designed in the classical era so it makes sense that a classical style impacts modern death designs. Besides, the designs please a wide range of people.
However, as times change, buildings do, too. This is true even of death chambers. Now, more people opt for the construction of private, personalized mausoleums. These personalized options provide privacy and a way to make an everlasting statement. Modern mausoleums often feature streamlined exteriors that reflect a contemporary style, with simple lines and less fanfare. This trend proves especially appealing if the mausoleum stands in an isolated area away from older styles of resting places.
Conceive and Grieve
Conceptional mausoleums take personalization even further. Some people even design cubes for their final resting place. It's possible to dream-up a plethora of mausoleum creations as long as they violate no laws and there's enough money to pay for the construction. One thing to consider when going this route is how the design will impact visitors. Keeping their physical comfort in mind helps ensure that the mausoleum functions as intended.
Eternally Green
Another trend pertains to the eco-friendlness of the resting place. Even Emperor Akihito and Empress Michiko of Japan worry about maintaining a green final footprint. They've chose a smaller structure to house their cremated remains. This modernization caused controversey in Japan, but the couple made it clear that their services and resting places must not cause a fuss on any level, not even with the environment. In addition to reducing the size of their chamber, they want the materials used in its construction to treat the earth kindly.
Functional Art
Whatever the style of mausoleum, such structures continue to provide a valuable service to the dearly departed and their loved ones. The look of mausoleums change from era to era. But the services that mausoleums provide helps people the world over, even modern day emperors.
Mausoleums are a symbol of remembrance and honor for many cultures. Over the years, exquisite mausoleums like the Taj Mahal have attracted tourists from all over the country to see its artistry. Other tombs like the three you will read about in this blog seem to lure people in by the mystery and strange stories around their design. Nevertheless, a mausoleum should be unique and have its own story to tell. A story that, sometimes, is stranger than fiction.
Read More

»
The grand Taj Mahal in India is, if you were unaware, a mausoleum that was built to express the love of Shah Jahan for his favorite of three wives, Mumtaz Mahal. The immense structure, created out of white marble, has stood since it was finally finished in 1632. Few on this earth possess the means to construct such a lavish expression of our love for another.
But simple means did not stop an octogenarian retired postmaster from trying his best to do the same. Faizal Hasan Quadri set out to erect a structure that would comfort the concerns of his now deceased wife; that they would die and be forgotten as they had no children to carry on their name. And so Quadri met with several architects to draw up plans for a mausoleum that would ensure immortality for the two who would one day reside within.
"I wanted to make a 'monument of love' in her memory. I called up an architect and assigned him the work, but I did not like his design." It was then that Quadri recalled his younger days in Agra, where he was training for work. The glorious Taj Mahal stuck in his memory. He decided he would create a Mini Taj. 
Read More

»
The sun provides for us. Its rays shower us with warmth and allow for the plant and animal life on this planet to survive and to thrive. One person, in particular, credits the sun with his own success in life. Ron Rice, you see, is the founder of the Hawaiian Tropic brand of suntan lotions. And at age 75, he is preparing for the setting of the sun on this life he has led.
Just north of Daytona Beach, Florida is the community of Ormond Beach. It is in this small community that Rice has just completed the construction of his 6 crypt mausoleum for himself, his ex-wife, and his daughter. He explains the three additional crypts are reserved for any future grandchildren provided him by his daughter. 
Read More

»
A story came to light earlier this week of a massive find of more than 10,000 skeletons in what is being called the "criminal tombs", dating back to about 202 BC, during the Chinese Han Dynasty. The name given this macabre find refers to the fact that many of the skeletal remains are bound by shackles and fetters.
As explained at this week's Symposium for Research on Hanyang Mausoleum and Han Culture, the many remains were of prisoners who had been forced to build the Hanyang Mausoleum, and the tomb where Hanjingdi Liu Qi (188 – 141 DC), the fourth emperor of the Western Han Dynasty, and his wife are buried. There had been reports of an archaeological find of many prisoners as far back as 1972, but that excavation was more than a mile from this most recent discovery. 
Read More

»
History is fascinating. Learning and researching people, structures, and events helps to bring a better understanding of the time that was. However, not all study of history is of things that came to be. Sometimes the more fascinating stories surround things that never were. One example of this was detailed in a very interesting article recently, involving a wealthy playboy, a philandering architect, and a 200-foot tall, hollowed owl mausoleum. Let us begin.
The story begins almost 110 years ago when, in an attempt to secure immortality, heir to the New York Herald publishing fortune James Bennett Gordon, Jr. commissioned the most sought after architect of the day, Stanford White, to design and build the home for his hereafter.
Mausolea have been constructed throughout time to memorialize the life of a famous individual or prominent family. Design of these structures typically follows a protocol of respectful understatement. Many mausolea incorporate elements of a particular time, be it early Egyptian, Etruscan Italy, or more modern design styles representative of later Anglo-Saxon elements. For this story, however, it is important to know that James Bennett Gordon, Jr. wanted a mausoleum unlike any other constructed before or since.
But who was James Bennett Gordon, Jr., and why would the construction of his mausoleum shock (but not surprise) the New York elite, whose circles he traveled within? To put it bluntly, James Bennett Gordon, Jr. was the original New York bad boy, known simply as "The Commodore". One oft told story involved this eccentric playboy terrorizing the New York City streets in the middle of the night, commanding his horse drawn carriage at high speeds, all while displaying himself sans clothing. He was the early 20th Century example of privilege run amok.
He was not simply one to exist in New York City, either. His decisions and actions still are stamped on the city geography to this day. Just years before the world rang in the 1900s, Bennett decided his father's paper, The New York Herald, no longer needed to print side-by-side to the other papers of the day in an area of the city known as "Newspaper Row". He moved the paper further north and had constructed a new and ornate building bedecked with owls, a bird that apparently held a special place in the heart of Bennett. Though that building no longer exists, the area of Manhattan still does. Today, it is known as Herald Square. (And those owls, with their internally lit green eyes, are there as well.)
With owls in mind, Bennett commissioned White, whose architectural firm was behind the design and construction of many prominent New York City landmarks, such as the New York Public Library building, Columbia University, the second (and subsequent) Madison Square Gardens, and other iconic buildings, to create a mausoleum in the form of a 125-foot hollow owl, within which his sarcophagus would be suspended high above the ground, held by giant steel chains. The owl, perched atop a 75-foot pedestal, and built at one of the highest points on Manhattan would peer over the city at 465-feet above sea level. For comparison, the Statue of Liberty rises 305-feet above sea level. 
Read More

»
An interesting story came out of the St. Louis, Missouri area this week when an enterprising cemetery merged the paragon of human eternity, the mausoleum, with another eternal object, the sun. The New Mount Sinai Cemetery constructed an array of solar panels that captures the sun's light and converts it into energy for their large communal mausoleum.
Speaking to the St. Louis Post Dispatch, New Mount Sinai Cemetery board member Dick Brickson said, "Economically, we think it's a wonderful thing. Ecologically, we think it's a wonderful thing as well." And while this is not the first instance of a cemetery using solar power, it is a sign of these eco-conscious times and a growing trend for both private and public mausoleums.
Read More

»
Mausoleums have gained notoriety throughout the ages for their architectural beauty and fascinating history. Many mausoleums, along with the estates on which they are located, become historical landmarks in their respective communities, creating a lasting legacy for the families entombed within their walls.
Where do you envision your final resting place? How do you want to express your legacy? The location of your mausoleum is just as important as, and could influence, your mausoleum design. Consider whether you want to purchase a private lot at a high-end cemetery or build your mausoleum on a private estate. Then, customize your family's mausoleum to your heart's content.
Read More

»
Renaissance architecture was a rebirth of Roman forms. As a movement born in Italy, it's not surprising that Renaissance architects were inspired by the stately Roman structures surrounding them. The chief characteristic of Renaissance architecture is a return to the classic forms. The influence of Roman styles in many Renaissance mausoleum designs is clear. However, Renaissance mausoleum architecture incorporates other architectural elements and styles, including Romanesque Revival and even classic Greek architecture. By examining a set of Renaissance mausoleums, it's easy to see the diversity in this period of architecture.
Coster Memorial
The Coster Memorial, in Woodlawn Cemetery, New York, perfectly demonstrates the evolution of the Renaissance mausoleum architecture style. This mausoleum incorporates the fluted Ionic columns so prevalent in Roman architecture, crowned with volute capitals. The domed roof is a common feature in Renaissance architecture, as domes emulating the Roman Parthenon became popular during this architectural era. The faux roof crowning the entrance to the mausoleum is a classic example of Roman Ionic architectural style, but carried out in a Renaissance design where the overall structure is much more massive and ornate.
Read More

»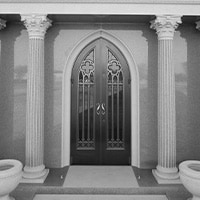 Mausoleum interiors vary as much as the mausoleums themselves. When families choose a custom private mausoleum, they create the interior they want – regardless of what's common in mausoleum interior design. Traditionally, mausoleum interiors are utilitarian, with vaults for the caskets recessed in the walls or under the floor. However, with a custom private mausoleum, families can choose a more ornate mausoleum interior, and can add lavish details like sumptuous decorations and furnishings.
Chapel-Style Mausoleum Interior
One way in which families embellish upon a traditional utilitarian mausoleum interior is by designing a chapel mausoleum. A chapel-style mausoleum design includes an altar. Families who want the mausoleum to have a religious focus select this type of mausoleum.
Read More

»