What Does a Mausoleum Interior Look Like?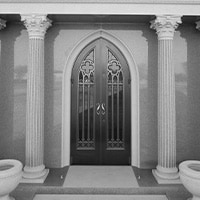 Mausoleum interiors vary as much as the mausoleums themselves. When families choose a custom private mausoleum, they create the interior they want – regardless of what's common in mausoleum interior design. Traditionally, mausoleum interiors are utilitarian, with vaults for the caskets recessed in the walls or under the floor. However, with a custom private mausoleum, families can choose a more ornate mausoleum interior, and can add lavish details like sumptuous decorations and furnishings.
Chapel-Style Mausoleum Interior
One way in which families embellish upon a traditional utilitarian mausoleum interior is by designing a chapel mausoleum. A chapel-style mausoleum design includes an altar. Families who want the mausoleum to have a religious focus select this type of mausoleum.
Sarcophagi in Mausoleum Design
Many mausoleum designs incorporate the caskets into the walls or under the floor, but some mausoleum interiors focus on a sarcophagus or sarcophagi situated in the center of the space. Sarcophagi-style mausoleum designs require more open area so fewer deceased are housed for the size of the mausoleum. A sarcophagus-style mausoleum is most commonly used to house a single individual, but can be adapted for multiple individuals in a larger mausoleum space.
Visiting Space
Some mausoleums contain a space for family members to come and visit the deceased. In some designs, this takes the form of extra space for the family to come and stand within the mausoleum rather than standing outside. This offers privacy for mourning and communing with the deceased. More elaborate mausoleums contain furnishings including chairs and benches to sit and visit.
Memorial Items
Some families integrate a space to house memorial items significant to the deceased. This includes photographs, trophies, favorite jewelry, or other tokens of remembrance.
Ornamentation
While many traditional mausoleums are utilitarian, there's no reason a mausoleum interior can't be more ornate. Busts, frescoes, carvings, and other ornamentation bring personality to the mausoleum design, and make it a more pleasant place for family members to visit. The most elaborate mausoleum designs feature extensive ornamentation inside – it doesn't stop at the exterior.
Lighting and Heat
A traditional mausoleum interior is a grim place to visit. Adding lighting and heat to the mausoleum make it significantly more pleasant for visitors. Some mausoleum designs incorporate large windows to bring in natural light, while others include electrical lighting in the mausoleum interior design details. Heat, too, is an important factor in making a mausoleum more comfortable to visit year-round. Some of the most elaborate mausoleum designs incorporate a heating system so family members can visit in winter, and this is also a consideration for chapel-style mausoleums when the intent is to conduct a regular service.
Mausoleum interiors don't have to be dull and utilitarian. Ornamentation makes a mausoleum interior more visually appealing, and furnishings, light, and heat make a mausoleum a very pleasant place to visit.