About the Lenin Mausoleum
You might be surprised to learn that the Lenin Mausoleum is one of Moscow's most popular tourist sites. After all, viewing the embalmed body of Vladimir Lenin that has been famously preserved for almost a century may seem rather macabre.
However, seeing Lenin's remains is just one part of the experience. Much care was taken to build the structure that holds the mummified body. That structure, Lenin's Mausoleum, is impressive in its size and grandeur, and it also demonstrates (as one academic described) "that the past is not at all past."
Let's learn about Lenin's Mausoleum, located in Moscow's Red Square. While much has been written about the biochemical technologies that preserved Lenin's body, we will focus on the symbolism of this building that holds the tomb.
About Vladimir Lenin
Lenin (born Vladimir Ilyich Ulyanov) was born in 1870 to a middle-class family. He embraced political activism at a young age, perhaps due to his brother's previous work as a revolutionary, which resulted in his execution.
Lenin became a senior Marxist Activist in 1893, which led to his arrest and exile to Siberia. After this period, he moved to Western Europe, where he gained attention as the leader of the Bolsheviks – a faction that campaigned for proletarian revolution. He returned to Russia in 1917 to play a leading role in the October Revolution, the last major phase of the Russian Revolution in which the Bolsheviks seized power and inaugurated the Soviet regime.
Lenin became the head of Soviet Russia and leader of the Soviet Union from 1922 to 1924. His leadership oversaw mass killings and political repression. When Lenin died, Joseph Stalin succeeded him as the pre-eminent figure in the Soviet government.
The Soviet Union Following the Death of Lenin
Less than one week following Lenin's passing, a wooden tomb was standing in Red Square by the Kremlin Wall. Lenin's coffin was placed on it, and more than 100,000 people visited the body, temporarily embalmed to make the corpse presentable. Additionally, freezing temperatures helped preserve the body in the early days.
As people continued to flock to Lenin's tomb, Soviet officials decided to preserve his remains permanently. However, those hired for the task urged the government to replace the wooden structure holding the coffin after mold was found in the walls.
Lenin's Body is Moved to the Permanent Mausoleum
The new mausoleum was made in the original design as the wooden mausoleum and was completed in 1930. Marble, porphyry, labradorite, and 2900 m² of polished granite, quarried in all the republics of the USSR, were required for the design. The mausoleum occupied the highest point on Red Square. This made it the perfect viewing stand for Soviet leaders (and later Boris Yeltsin and Vladimir Putin) to oversee parades on Red Square.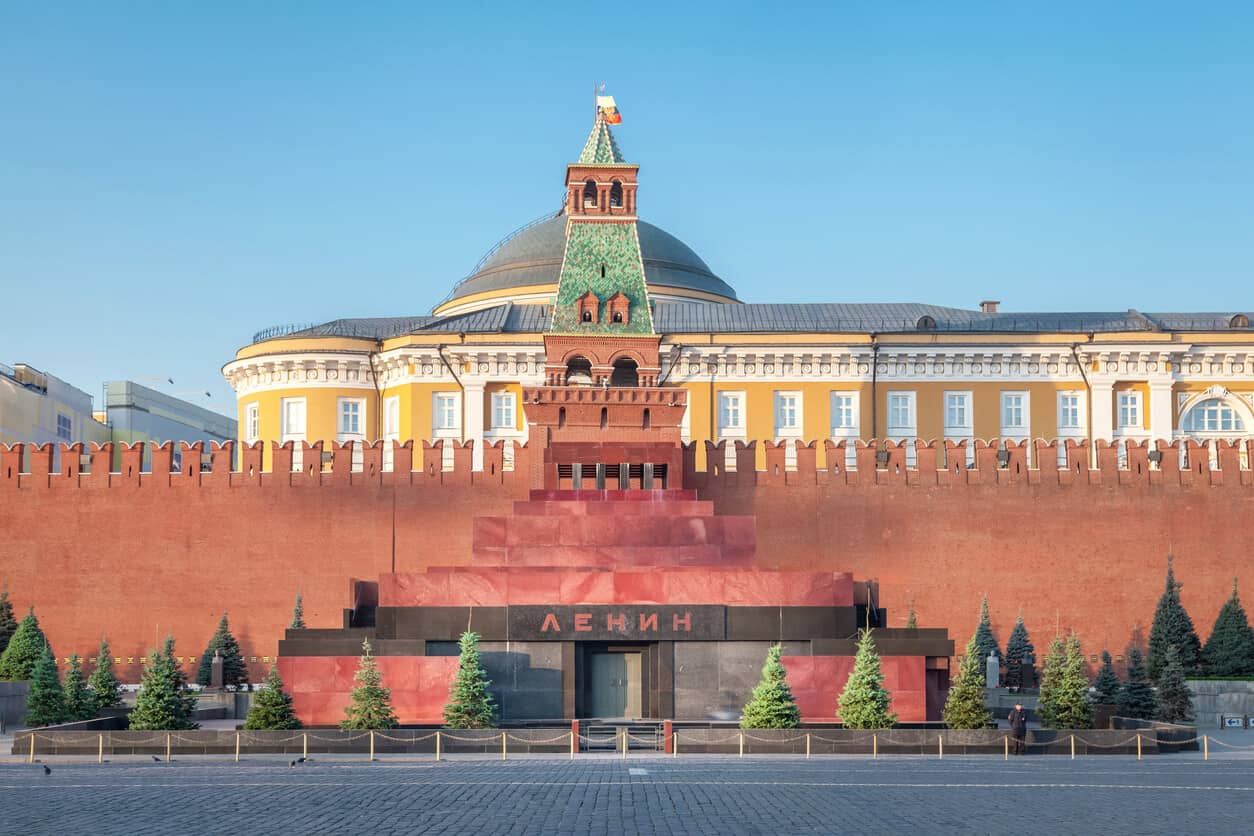 The mausoleum contains a vestibule, Mourning Hall, and two staircases. The USSR coat of arms was carved into a piece of black granite directly across from the entrance. The sarcophagus, which was redesigned in 1973, is bulletproof, with a red granite railing. On either side of the sarcophagus are the battle and labor bronze banner.
Millions Visit Lenin's Mausoleum
More than 2.5 million people visit Lenin's Mausoleum every year. While some are there to see Lenin's embalmed body, the structure itself is impressive in its own right.
What can we learn about this famous final resting place? For one thing, a mausoleum shows "that the past is not at all past."
To learn more about building a private mausoleum for your family, contact the premier provider of custom-built mausoleums in North America. Forever Legacy uses quality granite quarried explicitly in Vermont for your project. We also hire the best artisans in the country to create a beautiful, lasting structure that your future generations will be proud to visit. Ready to learn more? Request a private consultation by filling out this form on our website.
Belinda McLeod has a degree in Secondary Education, specializing in English and Journalism. She began her career as a freelance writer in 2018 since a flexible schedule would allow her to help care for an aging parent. Since then, Belinda has specialized in writing for the funeral industry. Belinda has written for Cake, a funeral-planning website, nursing homes, mausoleum companies, cremation companies, and funeral homes.