Mausoleum Terms: A Glossary of Mausolea Terminology and Definitions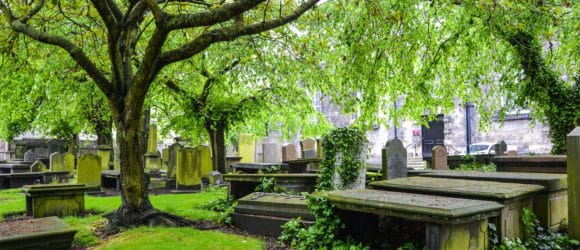 This helpful glossary will teach mausoleums, tombs, interment, and other related terms.
Glossary of Cemetery & Mausoleum Terms
At-Need: any final arrangements made by the deceased's family after the time of death.
Bas-Reliefs: A sculptural relief that projects from the surrounding surface.
Burial: the disposition of whole-body or cremated remains, traditionally below ground.
Casket: a container designed to encase human remains and customarily constructed of wood or metal, ornamented and lined with fabric. It may be full-couch, which opens completely, or half-couch, which opens to show the deceased's body from the waist up.
Cemetery Mausoleum: refers to a community mausoleum used for the interment of many unrelated people; each crypt is sold separately.
Cenotaph: a memorial placed on a grave where the physical body is not present; typically used to memorialize or commemorate the deaths of those at rest in another part of the world.
Coffin: a casket tapered at the head and the feet, typically constructed of wood.
Columbarium: a room or building with niches to hold urns containing cremated remains.
Committal Service: the service to place casketed remains into a grave or mausoleum.
Community Mausoleum: an above-ground or partially above and partially below-ground structure containing crypts and niches to hold the remains of members of the general public.
Companion Mausoleum Crypt: a space in a mausoleum capable of holding two caskets.
Companion Columbarium Niche: a space in a columbarium designed to accommodate the cremated remains of two people.
Cremation: a process of final disposition that involves the burning and vaporization of human remains followed by the pulverization of dry bone material.
Cremated Remains: sometimes referred to as "ashes" or "cremains;" the remains after the cremation process is completed.
Crematorium: a building in which the cremation of bodies takes place.
Crypt: a tomb; a dedicated space within a mausoleum designed to house a deceased person in a casket; often built into the mausoleum walls and may face internally or externally; from the Latin word meaning "hidden."
Custom Mausoleum: a custom-designed mausoleum built to the owner's specifications and tastes.
Double Crypt: a crypt designed for two caskets to lie side by side.
Embalming: the process of preserving a body by circulating preservative fluid through the deceased's veins, arteries, and body cavities.
Entombment: placement of the casket or urn in an above-ground mausoleum.
Epitaph: any inscription or text on a monument in memory of the person interred there.
Family (Private) Mausoleum: a structure above ground, or partially above and partially below ground, containing crypts.
Frieze: a broad horizontal band of sculpted decoration, especially on a wall near the ceiling
Funerary Recess: similar to a crypt, a space in a wall built to receive a casket, then sealed and adorned with a plaque with an inscription about the deceased.
Garden Mausoleum: a mausoleum where the crypts open to the outdoors
Grave: a space of land in the cemetery used or intended to be used for the burial of human remains.
Interment: the burial, entombment of human remains, or the inurnment of cremated human remains.
Interment Space: a grave, crypt, or niche.
Inurnment: the placement of cremated human remains in an urn and placement of such urn in a niche, crypt, grave, or other suitable location.
Legacy: something someone has achieved that continues to exist after they stop working or die.
Mausoleum: an external free-standing above-ground building or structure, for the interment of human remains; may contain a combination of crypts, niches, or columbariums; the word mausoleum is named for Mausolos, an ancient king whose wife had an elaborate, above-ground tomb erected to his memory
Mausoleum Crypt: a space in a mausoleum capable of holding a casket.
Mausoleum Niche: a space in a mausoleum or columbarium used or designated to be used for the inurnment of cremated human remains in an urn.
Mausoleum Vase: a receptacle for placing flowers on a crypt or niche.
Memorial: a monument, tombstone, grave marker, or headstone identifying a grave; or a nameplate identifying a crypt or niche.
Monument: a memorial made principally of stone that extends above the surface of the earth, in upright form; from the Latin word "monere," meaning "to remind."
Niche: a space in a mausoleum or columbarium used or intended to be used for the inurnment of cremated human remains.
Outer Burial Container (or Vault): any container or enclosure made of concrete or steel placed in a grave around a casket to prevent the grave's collapse.
Perpetual Care: funds specifically designated and restricted to maintain the cemetery grounds, facilities, or mausoleum.
Pre Need: purchasing cemetery property or end-of-life services in advance of actual need.
Private Family Mausoleum: an above-ground mausoleum building specifically designated for a single family, typically designed to entomb several decedents, owned by an individual or family, and sometimes built on cemetery property.
Sarcophagus: an above-ground chamber for casket entombment typically made from granite or stone.
Sepulcher: a burial vault, crypt, or small room wherein human remains are laid to rest.
Sepulcher mausoleum: a type of mausoleum that has no door or free space inside; the crypts are built into the walls of the mausoleum and face outside; also called a garden mausoleum
Tomb: another term for a burial place
Urn: a container for cremated remains.
Vault: a burial chamber usually found underground.
Walk-in (vestibule) Mausoleum: a free-standing stone structure with an entrance and an open space inside so one can walk inside. The crypts are typically indoors and can be incorporated into the walls, placed in the mausoleum floor, or on the floor of the structure.
Familiarizing yourself with this list of terms may help you create your own end-of-life plan. Request a private, no-obligation consultation with Forever Legacy to learn more about the construction of private mausoleums and monuments from the premier builder in the United States.
Belinda McLeod has a degree in Secondary Education, specializing in English and Journalism. She began her career as a freelance writer in 2018 since a flexible schedule would allow her to help care for an aging parent. Since then, Belinda has specialized in writing for the funeral industry. Belinda has written for Cake, a funeral-planning website, nursing homes, mausoleum companies, cremation companies, and funeral homes.