Cypress Lawn Memorial Park Mausoleums, Colma, California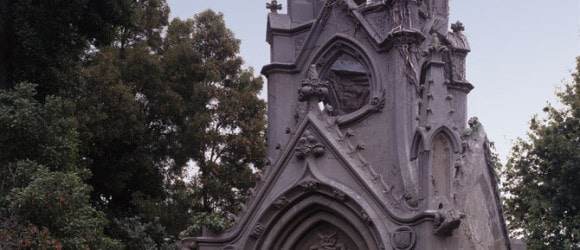 Cypress Lawn Memorial Park, known as the "City of the Silent," is an important cemetery in Colma, California. Cypress Lawn Memorial Park, founded by Hamden Holmes Noble in 1892, has served many prominent citizens from the greater San Francisco area.
History of Cypress Lawn Memorial Park
Cypress Lawn Memorial Park was founded on an idea based on the failure of another prominent cemetery in the San Francisco area – Laurel Hill. In the 1860s, Laurel Hill was a premier cemetery in San Francisco, with beautiful trees and gardens and wide streets. With no trust funds or endowment to maintain the gardens and streets, however, Laurel Hill Cemetery fell into disrepair by the 1890s, and was considered a public disgrace. Hamden Holmes Noble, upon taking a carriage ride through Laurel Hill in the early 1890s, decided to start a new cemetery – one that would surpass Laurel Hill in beauty, and would be built on an endowment to ensure long-term care of the property.
Hamden Noble took a tour of the rural and garden cemeteries on the East Coast, and established Cypress Lawn Memorial Park in 1892 based on these designs. Today's Cypress Lawn has expanded from the East and West Gardens to the new Hillside Gardens, adding space for the cemetery to continue to grow, and incorporating signature Cypress Lawn archways, lakes, and fountains. Cypress Lawn Memorial Park has evolved into an extensive park, with rich foliage, culturally diverse and significant statues, and other important works of art. The park has become a rich repository of Northern California history, as an enormous indoor and outdoor art gallery, and as a final resting place for some of the most noteworthy names in the region.
Interment in Cypress Lawn Memorial Park
Interment in Cypress Lawn Memorial Park is available in many forms. Individuals and families can choose in-ground burial, a cremation niche, a private mausoleum, or a family mausoleum. Walking the grounds of Cypress Lawn reveals a wide array of private and family mausoleums, ranging from beautiful to brooding, but all impressive. Some of the most noteworthy mausoleums in Cypress Lawn include:
Flood Mausoleum: The Flood mausoleum, built in 1889, is an elegant example of a Greek temple-style mausoleum. This private mausoleum features 28 ionic, polished granite columns in beautiful Beaux Arts symmetry. Interestingly, the Flood mausoleum was originally built in the Laurel Hill Cemetery, but the entire mausoleum, along with Flood's remains, was moved to Cypress Lawn Cemetery in 1905.
de la Montanya Mausoleum: Brooding describes the de la Montanya mausoleum perfectly. This private mausoleum, modeled on a three-stage Spanish Gothic Tower in Burgos, Spain, was designed by Bernard J.S. Cahill in 1909. The Tiffany stained glass windows were destroyed in an earthquake in the 1950s. The structure itself is in a constant state of decay due to earthquake damage, and the persistent ivy that plagues sandstone structures.
Rodgers Mausoleum: The Rodgers Mausoleum, built in 1929, is a prime example of the Egyptian Revival movement that swept across the United States in the 1920s. A pair of marble sphinxes stand sentinel over the remains in this family mausoleum, with Egyptian symbolic carvings flanking the entry and crowning the tomb.
Explore our Classic Mausoleums for more cemetery mausoleums.
There's no question that the Cypress Lawn Memorial Park is an important part of San Francisco's history. It continues to play a role in that ongoing tapestry as it accepts new interments today.