Blocher Mausoleum
---
Misc.
It's impossible to stroll by the Blocher mausoleum in Buffalo's Forest Lawn Cemetery without wondering what the story is behind this one-of-a-kind tomb. Indeed, the circumstances that led to the tomb's construction are an intriguing mix of fact and fable. It's a tale of love and passion and loss and sorrow. The center of attention inside the tomb is Nelson Blocher, laid out for viewing, clutching a bible. Looking at his prostrate form are his parents, John and Elizabeth Blocher. Hovering above is an angel, who, some say, bears a striking resemblance to a maid employed by the Blocher family. It's said that Nelson died of a broken heart. Accounts of the day say that his mother, Elizabeth, goaded her husband, John into constructing the tomb as a memorial for their heartbroken son.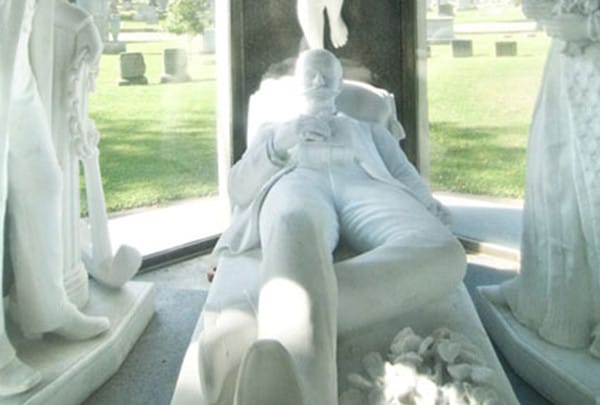 John Blocher was born in 1825 in the small town of Scipio, New York. At age 10, he became "the man of the family" following the death of his father. This left him with little formal education, but the adult responsibilities that he assumed at a young age charged him with entrepreneurial spirit. At age 18, he opened a tailoring business in Buffalo, which he soon developed into a general store, supplying ready made clothing, dry goods, and groceries to Buffalo residents. At age 20, John married 19-year-old Elizabeth Neff. The union produced one son, Nelson, who was born in 1847. John Blocher enlisted in the Union Army at the outbreak of the Civil War, and served one year in the 78th New York Regiment before being discharged for ill health. Returning to Buffalo after his stint in the army, Blocher turned the war to his advantage and proceeded to manufacture shoes and boots for the army. His prosperous footwear business and some shrewd real estate investments soon turned John Blocher into one of Buffalo's wealthiest citizens. Fittingly, he installed his family in an elegant residence on Delaware Street, Buffalo's answer to Manhattan's Fifth Avenue.
The Blocher residence, of course, needed the usual compliment of servants. One young maid in particular, 20 year old Katherine, ultimately became the force behind the construction of the Blocher mausoleum. And herein lies the tale. It seems that Nelson Blocher either wasn't inclined toward marriage or was inept at the social skills necessary to secure a bride. Not only was he still a bachelor at age 34, he was living at home. Nelson made frequent buying trips to Europe to purchase leather goods for the family business and art and furniture for the family home. But, when he returned to Buffalo, he was assigned to the rather mundane day-to-day duties of attending to the Blocher business. One day, in the spring of 1881, the Blochers hired a new maid. Katherine was 20 years old, pretty, and unattached. Nelson was immediately smitten and made no attempt to hide it. During the spring and summer of 1881, he found ways to be near Katherine and to spend time with her. There is reference to an injured kitten Nelson and Katherine nursed back to health. Some say that Katherine wasn't particularly attracted to Nelson but encouraged and continued the flirtation to keep her job, while others say they fell in love. But, whatever the case, it's clear that it simply wasn't proper for a well-bred man about town to consort with a lowly maid, no matter how charming she may be. Nelson's parents did not approve of the romance and quickly made plans to put an end to it.
In the fall of 1881, Nelson's father John announced that there was business to be attended to in Europe and Nelson needed to make plans to leave for an extended trip. Plainly, Nelson's father wanted to separate the couple and put an end to the romance. One story says that Nelson proposed marriage to Katherine on the eve of his departure to Europe, but Katherine said she needed time to think, while other accounts say that Nelson barely had time to say good-bye. After Nelson left for Europe, one account says that Katherine had second thoughts about marriage and used the opportunity to depart for parts unknown. But a more accepted account says that immediately after Nelson's departure, the Blochers fired Katherine with a strict admonition never to return. What is true, however, is that in the spring of 1882, when Nelson returned from his travels, Katherine was gone and nobody seemed to know where she went.
John and Elizabeth Blocher told their son that two weeks after Nelson left for Europe, Katherine had stole away in the middle of the night, leaving nothing behind but her Bible. Whatever the reason for Katherine's departure, Nelson was heartbroken. He couldn't believe she had left without even leaving a note. There must have been a reason, and he was determined to find her and convince her to come back. Throughout the remainder of 1882, he searched for her. And like the lovelorn for eons before him, he neglected his business and health in pursuit of love. By the fall of 1883, Nelson was tired and worn out from his search. Broken in spirit and sick with a fever, Nelson took to his bed. By early winter of 1884, he was drifting in and out of sickness and depression. Soon he became bedridden. His only solace was the Bible Katherine had left behind. Then, on January 24th, 1884, Nelson's time in this realm was over. He died with Katherine's Bible clutched to his breast. Nelson's mother, Elizabeth, no doubt driven by a maternal blend of love and guilt, insisted that a suitable memorial be erected to her son. The task of designing the monument would fall to the creative hand of John Blocher. At the time of Nelson's death, John Blocher was semi-retired. He had taken up sculpting as a hobby and would use those skills in designing the Blocher monument.
The spirit of the Blocher monument belongs to an architectural style all its own. The closest category of architecture that the Blocher mausoleum can be compared to is the "follies" of 19th century Victorian architecture. Penguin's Dictionary of Architecture defines a folly as, "A costly, but useless structure built to satisfy the whim of some eccentric and thought to show his folly…" Supposedly, John Blocher just couldn't find a monument designer to correctly interpret his vision, so without any formal training in construction, he took it upon himself to craft the mausoleum.
Blocher's design, which looks more like an elaborate confection rather than a mausoleum, may have been ahead of its time. Nowadays, it would be easy to imagine a structure like the Blocher mausoleum gracing an avenue of pillowy shaped buildings in Toontown in Disneyland. Blocher had two elements to design. The first design was for the exterior of the mausoleum. The other design was for statues of the Blocher family and an angel (which some folks say looks a lot like the maid) that would be sealed behind glass in the mausoleum's interior. He contracted with the firm of John McDonnell to cut and assemble the pieces of the mausoleum from quarries in Quincy, Massachusetts. Blocher ingeniously designed the mausoleum so that the entire structure could be built with only twenty stones; thus minimizing maintenance problems. The roof, which is frequently a maintenance nightmare in stone structures, is formed by just one piece, a bell shaped affair. Another stone, shaped like a ball, is used for the capstone. The bell was cut from a 90-ton slab of granite and whittled down to 29 tons. It is supported by five pilasters. The pieces of the mausoleum were hoisted into position by massive rigging equipment. All of the elements were precisely set in place. But as the ball, the tomb's crowning glory was being lowered into its nest at the top of the bell, the timbering gave way and the ball came crashing down cracking the bell. A lawsuit ensued; the contractor claimed that Blocher's design was at fault, resulting in an inherently weak structure. Blocher claimed that it was a simple case of negligence. Eventually Blocher prevailed and another bell was manufactured. The capstone was finally, ever so gently, lowered into place without incident. In the openings between the pilasters, Blocher specified four one inch thick panes of glass, which were manufactured in Paris and another one inch thick piece of glass with hidden hinges that serves as a door. Before the mausoleum was assembled, work had already begun on the statuary.
For the statues on the inside of the mausoleum, Blocher originally commissioned Paul Roche of Westerly, Rhode Island to come to Buffalo and carve the statues out of Carrara Marble. Blocher fashioned a plaster model of Nelson Blocher lying on a couch and instructed Roche to carve a life size replica. Roche chiseled away under John Blocher's constant supervision, but Blocher was less than pleased with Roche's carving skills. In fact, when Roche unveiled the finished sculpture, Blocher took an axe to it and chopped it to pieces. After sending Roche packing, Blocher contracted with noted artist Swiss born, Italian sculptor, Frank Torrey in Carrara, Italy. Torrey wasn't about to travel to Buffalo, so Blocher supplied the sculptor with photographs, models and measurements of Nelson, Elizabeth, and himself.
For close to three years, Torrey toiled away, chiseling and shaping the statues. They were finally completed in 1888 and shipped to Buffalo where they were installed in the mausoleum. The first resident of the mausoleum was Nelson, who had spent the years since his death in the cemetery's receiving vault. Following him were his mother, Elizabeth Neff Blocher, who died of pneumonia at age 78 on March 31, 1904 and John Blocher, who died of "old age" on June 30, 1911 at the age of 85.
Where exactly are the Blochers spending eternity? They are underneath a movable slab in the floor of the mausoleum. According to a Buffalo newspaper report published when the mausoleum was being built, there are six crypts. This story led to a rumor that, in the safe of the cemetery office, there is a quitclaim deed stating that one of the other crypts is reserved for Margaret Katherine Sullivan—the maid. This story became fodder for romantic stories, that often ran around Valentine's Day, suggesting that, although the love struck Nelson could not have Katherine in life, there was still a possibility he might spend eternity with her. Alas, Forest Lawn management tells us that there are only three crypts below the Blochers' marble likenesses. Poor Nelson is spending eternity just as he did in life—with his parents. The whereabouts of the maid in unknown.
Text and photos © Douglas Keister Visit Doug's Author Page
[address cemetery="Forest Lawn Cemetery" street="1411 Delaware Avenue" city="Buffalo" state="New York" zip="14209″]